Hello, first years! Gather round. Can you all see and hear me? Okay, good. Now I'm sure you've heard the whispers in the hallways and around our Common Room about some foreign term called dens. What is a den? Well, I'm hoping after reading this fancy information post, you won't have to wonder about that any longer!

I imagine as you're wandering in, the most confusing part is that you don't see any of these mysterious "dens". We take them down right before our first years arrive so as to not confuse you. I know, that doesn't make much sense, so just trust me when I say it's easier if you don't see last year's dens.

That's the first fact about Gryffindor dens. At the beginning of every school year, we get new ones. Dens are usually made at either the end of August or the beginning of September every year, depending on when Jenny and Missa feel is appropriate. This year, they will be made at the beginning of September. They are also normally made after the new Gryffindor staff changes (the promotion of prefects and the naming of Junior Prefects). Then, everyone in Gryffindor is divided evenly between the dens. This year, we will have 3 dens, yet to be named. When the dens are formed and all Gryffindor students are divided, the following things will take place:
1.) You will notice a new section in Queen Maeve's Quarters on the forum. It will be marked dens and will hold the three dens' forums.
2.) There will be an announcement in Scarlet and Gold announcing the creation of dens and a complete list of who is in what den.
3.) You can find your den listed with your groups. Don't know what I'm talking about? See below! I've included an image.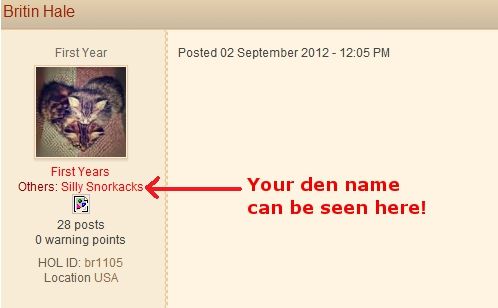 Note that this year, Britin is in the Silly Snorkacks den!
4.) You will receive a PM from your den leader informing you which den you are in and the link to your den.

5.) If you register after dens have been sorted, when your Gryffindor account is approved by either Missa or Jenny, it will also indicate which den you will be joining!

Last year, Jenny was able to work some magic and now you no longer have to type in a password to get into your den. Now, all you have to do is click the link! Yes, you heard correctly. In order to get into your den, you just have to click the link into your den! You receive automatic access to your correct den. So just enter! And no, you can't get into any of the other dens, and they can't get into yours. That's what makes it complete magic!


Now that you're in your den.... what exactly is it we do in dens? The creation of dens took place so that you can hang out somewhere in Gryffindor with a smaller group of Gryffindors and get to know them, play games with them, and chat with them about whatever. A lot of times in the past, people I have met in dens have become my best friends on here. You get to know them and you love doing things with them. That's why we also have den challenges!

Den challenges are little contests where you compete with your den against the other dens. They can be about anything. In the past, we've had den challenges every month, but this year we're going to have one every couple of months. As long as your den is active, they are really fun! One of my most fond memories in Gryffindor is from competing in a den challenge with my den. Sometimes I'll talk about how awesome it was to anyone who will listen. The trick is, though, for them to be fun you have to be active, and your den has to be active. So make sure you poke into your den often! You don't want to miss out on all the fun!

You might be wondering, who runs the challenges? I mean, I said above that everyone in Gryffindor gets put in a den. That's pretty much a true statement, too, especially this year. In the past, we've had a bigger group of staff members chosen to run challenges, which means they come up with the challenges, run the challenges, and judge the challenges, announcing the winners to the dens. This group of the Gryffindor staff are also known as SPD (Special Projects Division). This year it will be incredibly small, and will consist of a few staff members including Missa, Jenny, Kadina, Chadwick, and myself. Everyone else will be put in one of the dens.

Now you're probably wondering: what do we get out of winning the challenges, other than bragging rights and glory? Well... if you win enough challenges to become the best den, at the end of the school year (in June) your den will get the infamous Den Cup! I was once in a den that won this cup, and believe me, it felt really good to win. All that hard work and amazing friendships you made over the year seems to be rewarded when you feel that cup in your hands, knowing full and well your den was declared the best.


Okay, one more thing to talk about, while we're inside the dens. Your den will have chosen leaders from Gryffindor Staff. You will have a leader who will most likely be a prefect (although sometimes they can be a junior prefect) and then a co-leader(s) who are junior prefects. These are the people you should contact if you have any ideas for your den or if there are ever any issues in your den that might arise. There will be others in Gryffindor staff in your den to help the designated leader lead challenges and other den-related activities, but make sure you contact your den leaders!

Well, that's it, guys! All you will ever need to know about dens. I hope this helps clear up any questions, and that the dens don't seem quite as mysterious anymore!

You can now return to your normal Gryffindor tasks and schedules.